USA's Bubba Watson reacts after a bunker shot on the 13th hole.
Image: David J. Phillip/AP/Press Association Images
GOLF DOESN'T GET better than this. Join us for the first day of foursomes and fourballs as the 2012 Ryder Cup tees off at Medinah Country Club, Illinois.
As always, we'd love to hear from you, so send us your thoughts and comments on all the action.
E-mail us at adrian@thescore.ie, tweet us @thescore_ie, post to our Facebook wall or leave a comment below.
United States 5-3 Europe
12.57 – The talking is finally over and the golf is about to begin. Niall Kelly here to welcome you to TheScore.ie's live coverage of the 2012 Ryder Cup at Medinah Country Club, Illinois. Are these the best three days of the golfing year? Come back to us on Sunday evening and we'll let you know then.
If there's one thing to be thankful for, it's that it's just coming up to 1pm here in Ireland. Take pity on the poor golfers who are currently warming up in the dusky morning light. It's not even 7am in Chi-town yet.
The foursomes action gets underway at 1.20pm with Graeme McDowell and Rory McIlroy opening proceedings for Europe against Jim Furyk and Brandt Snedeker. Tasty.
We'll be here all day every day between now and the final putt on Sunday evening so if you don't want to miss a shot, you know where to go.
13.02 – If you skipped last night's opening ceremony, count yourselves lucky. It was an hour of Justin Timberlake-manned pomp and ceremony leading up to the only moment anyone cared about: the announcement of this morning's foursomes partnerships.
Here's how they'll line out in the first session (USA first):
1320 – Jim Furyk/Brandt Snedeker v Rory McIlroy/Graeme McDowell
1335 – Phil Mickelson/Keegan Bradley v Luke Donald/Sergio Garcia
1350 – Jason Dufner/Zach Johnson v Lee Westwood/Francesco Molinari
1405 – Steve Stricker/Tiger Woods v Ian Poulter/Justin Rose
13.07 – Statistically these are the strongest teams ever to meet in the Ryder Cup — all 24 players are in the world's top 35, the first time that has ever happened. If Europe are to give themselves a fighting change of getting to 14 points and retaining the trophy, they will need to start well this morning. The honour of the team's opening drive falls to G-Mac who will be on the first tee in just under 15 minutes.
The Americans have home advantage of course, and you can bet your bottom dollar that Medinah is going to be LOUD over the next three days. This is the scene on the first tee at the moment (via @RyderCupTeamEur);
13.10 – The first chants of "U-S-A, U-S-A" have already started… G-Mac and Rory need to quieten the home support quickly. They won a point and a half together from three matches in Celtic Manor two years ago. Can they get Europe off to a winning start against Jim Furyk and $10 million man Brandt Snedeker?
13.17 – Of course there is one very important person missing for Medinah this week: one of the golf world's greats, the legendary Seve Ballesteros.
Team Europe needs no more motivation.
(PA Archive/Press Association Images)
13.18 – Fashion watch: As G-Mac and Rory walk to the first tee, I can report that they are wearing pale lime green jumpers and black slacks. Not bad.
13.21 – If you've been avoiding our build-up coverage, here's a quick list of what you'll need to know:
13.24 – TEE OFF: We're up and running at the 2012 Ryder Cup as Graeme McDowell does the honours from the first tee box. The boos settle as he takes a few practice swings and… drives it out to the left, through a small pile of spectators. What pressure comes with a shot like that!
Furyk is up first for Team USA and his shot isn't a million miles away. It takes one kick on the fairway, bounces over the bunker on the left and skittles away through the spectator rope. I'd bet the two lads are glad to have that over and done with.
13.31 – G-Mac's wayward start means that McIlroy has to try and play his approach shot up and around a corner. He does well to get them out of a bit of a hole, playing a wedge which holds up on the bank on the bunker to the right of the green. That's a makeable chip and putt for an opening par.
Snedeker has a slightly easier task and he finds the heart of the green, leaving Furyk with a lengthy putt for his birdie.
13.36 – Furyk & Snedeker A/S McIlroy & McDowell thru 1
Exquisite chip by G-Mac leaves McIlroy with a gimme for his par, but then Furyk has a putt for birdie and to win the hole. He paces it right but it's just to the right and that will be the opening hole halved.
13.40 – BOOOM! Cool hand Luke Donald steps on to the first tee and silences the boo-boys with a perfect drive down the right hand side. Bradley bombs down to follow him. No nerves from these lads.
Sounds like the atmosphere is getting a bit tasty already.
13.48 – Mickelson & Bradley A/S Donald & Garcia thru 1
Donald has a downhill putt from the fringe for birdie and it's a brilliant effort, trotting up about eight or nine inches from the cup. Garcia picks up for his par but then has to watch as Bradley tries to win the hole with a putt from off the edge of the green. He very nearly does, missing to the left by millimetres.
Halved in four. On we go.
13.50 – Our first email has landed. This one comes in from David Elkin in Toronto.
niall@thescore.ie is the address if you want to get involved.
Watching the ESPN coverage over here is bordering on the insufferable. The man-love for the US Team from the pundits and general "banter" is a little too much for an 8am start. I never thought I would long for the days of Sky and Colin "Mrs. Doubtfire" Montgomerie.

Anyway, the European 8 this morning look strong. Strong enough for parity (just about). I think the key stat to look at overall is the 4 non-players for each side. The Europeans would appear ridiculously weak there: Nicolas Colsaerts, Paul Lawrie, Peter Hanson, Martin Kaymer. Compared to Dustin Johnson, Matt Kuchar, Webb Simpson, Bubba Watson. That's a massive difference in depth quality, and it doesn't inspire confidence over the three days.

I'm a worrier.
13.53 – There's a lot of chit-chat on the second green as G-Mac and Rory call in the referee to see if they can get relief from a greenside sprinkler head. After a long hard look, he decides that they can't and so McDowell is left with an awkwardish chip which he gets to within about five or six feet.
That'll be the first true test of Rory's nerves.
13.54 – Furyk & Snedeker 1 up McIlroy & McDowell thru 2
Oh Rory. He misses on the high side and that leaves Snedeker with a putt for par and to win the hole. He rolls it in and Team USA are up and running.
13.59 – If you're wondering what the opening day fashion is like, here are those "pale lime green" jumpers I described earlier:
(Chris Carlson/AP/Press Association Images)
14.03 – Mickelson & Bradley 1 up Donald & Garcia thru 2
Oh yeah, Luke Donald has come to play. Garcia's tee-shot into the par-three second is just off the green but Lukey nails the chip to give his partner a pick-up par.
It forces Bradley to really attack his birdie opportunity and he does just that, rolling in a left-to-right breaker for a two and the hole. Cracking putt.
The US steam train is really up and running now.
14.05 – Dufner & Johnson 1 down Westwood & Molinari thru 1
Europe are on the board but they need two bites at the cherry to get the job done. Westwood can win the hole with a birdie but it doesn't hold its line long enough and misses to the left. Fortunately for him, Zach Johnson misses his par putt and Europe win in four.
14.09 – If there's a pick of the morning's foursomes, it's this one teeing off now — Steve Stricker and Tiger Woods v Ian Poulter and Justin Rose.
Poults loves the Ryder Cup and if there was any doubt about, he lashes an angry drive straight and true down the first fairway. When he said he wanted to kill somebody earlier this week, he wasn't joking.
It puts Tiger under pressure and a raucous ovation turns quickly to a collective groan as he pulls his drive waaaaaay left — we're talking McIlroy, Masters 2011 left here. That's a stinker of a second shot for Stricker.
14.14 – Here's the American outfit for the morning. I have to say, I like those trousers:
(Chris Carlson/AP/Press Association Images)
14.18 – Dufner & Johnson A/S Westwood & Molinari thru 2
The lead of Westwood and Molinari is cut short as Dufner sinks a short putt for a birdie two on the second.
14.21 – Furyk & Snedeker A/S McIlroy & McDowell thru 4
Hey USA, how do you like them apples? Just when it seems like everything is going the way of Uncle Sam, along comes a young lad named Rory McIlroy to remind everyone that he is the top dog around here.
It's a brilliant chip from off the fourth green, slowing up just enough to catch the downhill slope at the right pace and trickle on in the right door of the hole. Perfectly executed and Rory and G-Mac celebrate with a deserved high five.
Get in.
14.25 – If you're wondering what is happening back on the first hole… well, so were we. Tiger's drive is located and after much deliberation it's decided to give Stricker a free drop, presumably to move him out from the hoardings. He does well to move it towards the front of the green.
After standing about waiting for all of 15 minutes, Justin Rose finally gets to hit his first shot of the day. It's into the green and, barring something crazy from Tiger, Poults will have a putt to win in three.
14.27 – Stricker & Woods A/S Poulter & Rose thru 1
Uh oh. Poulter hits it a little bit too firmly through the break and it rolls a couple of feet by. The Americans won't concede — I wouldn't either from that position — but Rose makes it back and the hole is halved with pars.
14.29 – Mickelson & Bradley 1 up Donald & Garcia thru 4
Luke Donald is on fire in these early holes and he's really putting pressure on Mickleson and the rookie Bradley to show that they are value for their lead. He putts first and sinks a mid-length birdie which turns the tables on Bradley, leaving him chasing a half rather than a win. No nerves for Keegan though and he rolls in to keep America's lead.
14.32 – Here's how it stands at the moment:
Furyk & Snedeker A/S McIlroy & McDowell thru 5
Mickelson & Bradley 1 up Donald & Garcia thru 4
Dufner & Johnson A/S Westwood & Molinari thru 3
Stricker &  Woods A/S  Poulter & Rose thru 1
14.34 – A stinker of a start for Stricker and Woods continues as Stricker leaves his opening tee shot somewhere on the ladies' tee. That should give Poulter and Rose two shots for the hole and move them to one up.
14.37 – Stricker & Woods 1 down Poulter & Rose thru 2
There's no quarter being asked or given in this match. Poulter puts his birdie effort 18 inches past but there's no chance of the Americans conceding. Instead Stricker tries to hole out for a bogey four in the hope of putting the pressure on Rose. He misses and then, begrudgingly, permits Rose to pick up his marker.
14.41 – E-mail in from Alastair McMeekin. Remember it's niall@thescore.ie if you want to get in touch.
Question: Was the fence Tiger's drive finished against a course boundary fence? (it certainly looked like over it would have been OB?)

If it was why was the drop they had not a penalty drop?

Great show so far. Good luck to all!
It was a free drop for Stricker so I'm guessing it was up against the side of the hospitality stand out there on the left of the first fairway.
14.48 – Furyk & Snedeker 1 down McIlroy & McDowell thru 6
Mickelson & Bradley A/S Donald & Garcia thru 5
Dufner & Johnson 1 down Westwood & Molinari thru 4
Just like that, everything is turned on its head. Donald misses an eagle putt but a birdie is enough to win the fifth hole against Mickelson and Bradley's par. And practically simultaneously McIlroy and Westwood win their respective holes.
14.51 – Stricker & Woods A/S Poulter & Rose thru 3
I don't think Stricker and Woods have hit a shot between them yet today but somehow, they've managed to pull back level with Poulter & Rose. It's the latter who has the putt for a half, tossing his putter high into the Medinah sky as it rolls on by.
14.55 – Dufner & Johnson 1 down Westwood & Molinari thru 5
Great play from both teams on the par five fifth. Putting hasn't always been Francesco Molinari's strongest suit but he rolls in for a birdie which forces the pressure on Johnson to make his own and halve the hole. He does, much to the delight of the gallery.
14.58 – Mickelson & Bradley 1 down Donald & Garcia thru 6
LUUUUUUUUUKE. Donald slides in a par putt to beat the Americans' bogey five.
15.02 – Furyk & Snedeker 1 down McIlroy & McDowell thru 7
There's is some truly brilliant golf being played in this first match. McIlroy and McDowell have made four consecutive birdies and still, they only lead Furyk and Snedeker by one hole thru seven. Furyk's sublime approach shot looks to have stolen the hole for America, leaving Snedeker with a tap-in birdie, but McIlroy nails a long one to spoil the party. No beating that.
15.06 – Stricker & Woods 1 dn Poulter & Rose thru 4
JUSTIN ROSE! Yes, I meant to shout that because Rose has just sent a 50-yard birdie putt up a hill, down a hill, around a corner and back into the cup. There's a huge right-to-left break on his line but he gets it spot on. It's a putt that deserves to win the hole and does when Stricker misses his own.
For the first time today, we have an entirely blue board:
Furyk & Snedeker 1 down McIlroy & McDowell thru 7
Mickelson & Bradley 1 down Donald & Garcia thru 6
Dufner & Johnson 1 down Westwood & Molinari thru 5
Stricker & Woods 1 down Poulter & Rose thru 4
15.07 – David Elkin checks back in via e-mail from Toronto. We're already making plans to film a golf-themed Dallas starring Jim Furyk:
McIlroy seems to be up for this. That dispute on the 2nd between Furyk and McIlroy/McDowell over the sprinkler head seems to have given this match a bit of bite. Apparently Furyk said "I've been friends with you for a long time" during the argument. How dramatic. I'm just imagining him in a bad US soap opera. A golf-themed "Dallas" perhaps.

Anyway, Europe going well. But with the Ryder Cup the momentum swings so much throughout the day. Four birdes in a row from the Irish pair is, for foursomes, unbeatable golf.

There was just an ad on for Jersey Shore. I think they are mixing up their demographics here on ESPN.
15.12 – Furyk & Snedeker A/S McIlroy & McDowell thru 8
Dufner & Johnson A/S Westwood & Molinari thru 5
That is the magical thing about the Ryder Cup — it can all change just like that. We're back to all square in two matches as "Mr Putter" Brandt Snedeker rolls in a short birdie to pin back McIlroy and McDowell.
Then back on six, Westwood has a very makable par putt for a half but misses. Dufner and Johnson are back to all square.
15.16 – WHAT is Tiger Woods playing at? Seriously. For the second time in three attempts, he puts his drive into a different state. Steve Stricker must be loving this.
15.21 – Furyk & Snedeker 1 down McIlroy & McDowell thru 9
G-Mac and Rory are on fire and another birdie — their fifth so far today — sees them take a one-hole lead through the turn. McDowell is celebrating this one before it even drops. He knows it's good.
15.25 – Mickelson & Bradley 1 down Donald & Garcia thru 8
Stricker & Woods 1 down Poulter & Rose thru 5
The hole that nobody wanted finally comes to an end as Woods putts out for a par-five and a half. Just the two pub-standard shots for Tiger on that hole — he's really struggling to get going this morning.
15.30 – Dufner & Johnson 1 down Westwood & Molinari thru 7
A poor third from Dufner gives Westwood and Molinari a chance to go back in front on the par-five seventh. Westwood does much better, leaving Molinari with a 10-footer for birdie which he buries to take the hole in four.
15.33 – Gary Wall e-mails in with this:
Sky coverage dreadful as usual. There are only eight  balls going going around the course in a five hour period and we are seeing very few shots. They would only have to average a shot every thirty seconds to show every shot played. How hard I'd that?  Pathetic!
15.38 – Mickelson & Bradley A/S Donald & Garcia thru 9
It was getting a little bit quiet around Medinah for a few minutes there but the ninth hole has absolutely erupted as Keegan Bradley sinks a birdie to drag the Americans level through the turn. Desperately unlucky for Europe — Donald's own birdie putt looked out, then in, then back out again before narrowly missing.
15.41 – Furyk & Snedeker 2 down McIlroy & McDowell thru 10
Stricker & Woods 2 down Poulter & Rose thru 6
Let's hear ya now Medinah, eh? Finally we have some daylight in the first and last games and it's two of the old pros who crack. Furyk misjudges his bunker shot and concedes the hole to McIlroy and McDowell. On six, Tiger has a par putt for a half but considering the form he's been in so far today, it's absolutely no surprise that he misses it.
15.47 – More please!
(Chris Carlson/AP/Press Association Images)
15.53 – Mickelson & Bradley A/S Donald & Garcia thru 10
Match two is turning into a right little dinger as Mickelson and Bradley try with all their might to end Donald and Garcia's 100% record. Bradley holds his nerve for the second successive hole to nail a par five, but the pressure doesn't bother Donald who follows him in.
15.56 – Dufner & Johnson A/S Westwood & Molinari thru 9
We're back to all square as match three heads through the turn. Johnson's approach gives Dufner a 15-footer for a birdie. His putt looks good but then sits on the lip for three or four seconds before finally deciding to drop in. That's what home advantage and a couple of hundred people blowing simultaneously will do for you.
15.59 – Furyk & Snedeker 3 down McIlroy & McDowell thru 11
I don't want to put any pressure on the Northern lights (yes, that's what I'm calling them now) but if McIlroy and McDowell don't win this match, Europe might as well pack the bags and head for the airport this afternoon. McDowell's bunker shot rolls to about 10 feet but that's no problem for Rory who reads the left-to-right break and nails it.
Snedeker can only manage bogey and Europe are three up with seven to play in this one.
16.01 – Oh.
16.03 – Stricker & Woods 1 down Poulter & Rose thru 7
Europe settle for a par but Stricker finishes off a US birdie, earning himself a fist bump from Tiger as a reward.
16.09 – Mickelson & Bradley A/S Donald & Garcia thru 11
Stricker & Woods 1 down Poulter & Rose thru 8
Try as they might, Mickelson and Bradley just can't get their noses in front against Donald and Garcia. Bradley is putting brilliantly and after Donald needs two putts from 25 feet, he has roughly the same distance for a win. It's downhill with a massive left-to-right break at the end but he very nearly gets it spot on, missing by an inch or two.
Back on the par-three eighth, it's another hole that nobody wanted for the final group. It takes Stricker and Woods two shots just to get onto the green but Rose fails to press home the advantage by going into the bunker off the tee. Bogeys all round and another half.
16.11 – More from our man in Toronto, David Elkin:
Jim Furyk has been involved in three contentious rulings already today against McIlroy/McDowell. I don't want to stereotype him as the cantankerous old man of the US Team but he is making it hard for me. Him and Westwood can have a competition in the clubhouse for the title of "Most Irritable Golfer" at the 2012 Ryder Cup.

I knew Keegan Bradley was going to be good at this Ryder Cup. He's just that annoying enthusiastic American golfer that thrives in such an environment. And he looks like a young Ray Liotta. Which is never a bad thing. But a pressure player (or "clutch" as the commentators would insist on calling it) who is looking good.

Tiger is having a howler today. But the course is set up in such a way that going 50 yards off the fairway with a drive just isn't getting punished. Next time I drive it ludicrously wide (which is a common ocurence, you'll be surprised to hear), I'll think of Tiger and his Medinah get-out-of-jail-free card that is the "rough".
16.13 – After a lengthy absence, we have some red on the board again. Jason Dufner makes birdie four on the par-five 10th, Westwood can't follow suit and the Americans go one up with their second win in as many holes.
Time for a recap:
Furyk & Snedeker 3 down McIlroy & McDowell thru 12
Mickelson & Bradley A/S Donald & Garcia thru 11
Dufner & Johnson 1 up Westwood & Molinari thru 10
Stricker & Woods 1 down Poulter & Rose thru 8
16.18 – Stricker & Woods 1 down Poulter & Rose thru 9
The final match is halved in four on the ninth but the inevitable post-mortem on Tiger Woods' round has started before he even gets through the turn. Should he ask Davis Love to leave him out of tomorrow morning's foursomes? Can he really be as bad again on the back nine? So many questions…
16.21 – Furyk & Snedeker 2 down McIlroy & McDowell thru 13
Mickelson & Bradley 1 up Donald & Garcia thru 12
Not for the first time today, all's changed, changed utterly. McIlroy does well with a horribly difficult chip but 10 feet is a close as he can get it. McDowell very nearly managers to save par, lipping out off the left edge, and Furyk putts uphill to win the hole.
M&M lead by two now with five to play. They really need to see this out. ABC = Always Be Closing.
And the breakthrough has finally come on 12 as Donald blinks and misses a six-footer for par. Mickelson and Bradley lead by one thru 12 and the 100% record is in jeopardy.
16.26 – Dufner & Johnson 1 up Westwood & Molinari thru 11
Halves in four on the 11th hole. This one could go all the way to the wire but the momentum has shifted noticeably back towards the Americans in the last half-hour.
16.30 – Mickelson & Bradley 2 up Donald & Garcia thru 13
Phil Mickelson and Keegan Bradley are having an absolute party out there now. I'm not sure if the gallery is feeding off them, or they're feeding off the gallery, or both but somebody has turned the volume up to 11 in Match Two.
Donald's tee shot goes into the bunker and Europe are immediately on the back foot, more so when Bradley's brilliant effort leaves Mickelson with a great birdie chance. He makes it and there's fist bumps, chest bumps… every type of bump you can imagine.
In the words of George Hamilton, "Danger here."
16.36 – Furyk & Snedeker 2 down McIlroy & McDowell thru 14
A stunning half for McIlroy and McDowell and that could be the defining moment of the first match. Snedeker heaps on the pressure with a perfect eagle effort from the edge of the green, and McDowell has no choice but to drop a 12-foot birdie effort if he wants to stop the rot.
He does just that and the reaction of both players and the Europeans in the crowd tells you just how big that putt is. It looked certain to be one-up with four to play, now it's two-up with four to play instead. Another hole guarantees at least a half-point for Europe.
16.41 – Stricker & Woods 1 down Poulter & Rose thru 10
Dufner & Johnson 1 up Westwood & Molinari thru 12
Woods is forced to putt out for a testing little par but he makes it. I can't remember the opening session of a Ryder Cup ever being quite as tense.
16.42 – SPLASH! Mere seconds after holding his nerve while all around lost theirs, G-Mac drives into the water on 15. That's pretty much an automatic hole for America.
16.47 – Stricker & Woods 2 down Poulter & Rose thru 11
BOOM BOOM BOOM! Ian Poulter loves the Ryder Cup. Loves it. He has no right to get anywhere near the hole from a greenside bunker on 11. Not only does he get it close, he makes it and celebrates with a single finger raised in the air in triumph.
16.52 – Furyk & Snedeker 1 down McIlroy & McDowell thru 15
Mickelson & Bradley 3 up Donald & Garcia thru 14
There is no good news to report. None at all. Furyk and Snedeker win 15 as expected, but it's made even worse when Garcia misses his half on 14. Himself and Donald are three down with four to play and that looks very much like a point lost.
16.57 – USA 1-0 Europe: Mickelson & Bradley beat Donald & Garcia 4&3
Medinah is losing its collective mind right now. Absolutely losing it.
I can't even guess how long Bradley's birdie putt is — let's say 35 feet — but he nails it for birdie and with Europe in the bunker, that's game over.
Mickelson and Bradley win 4&3 and you have to say, it's a sensational performance by the rookie Bradley. Of the 16 players out there on the course, nobody is as fired up as he is. Sensational.
17.04 – Furyk & Snedeker A/S McIlroy & McDowell thru 16
Just before that US explosion, I gently broke the news to my colleagues that "something bad is happening" in Chicago. It seems like the mother of all understatements now. An hour ago, we were looking an entirely blue scoreboard — now Europe are clinging on for dear life.
Furyk's second into 16 is an absolute peach. It lets Snedeker roll in their third successive birdie and this one is all square with two to play. Sickening.
17.06 – Here's your latest:
Furyk & Snedeker A/S McIlroy & McDowell thru 16
Mickelson & Bradley beat Donald & Garcia 4&3
Dufner & Johnson 1 up Westwood & Molinari thru 13
Stricker & Woods 3 down Poulter & Rose thru 12
17.12 – Furyk & Snedeker A/S McIlroy & McDowell thru 17
And so the first match goes up 18 with the point still in the balance. McDowell's tee shot at the par-three 17th comes up short of the green but McIlroy absolutely stitches the chip for a gimme par. It still leaves Snedeker with a long birdie for the win. He gets his line right but he just doesn't give it enough well. Pars apiece and we go to 18.
17.14 – Stricker & Woods 2 down Poulter & Rose thru 13
Now Poulter and Rose begin to feel the pressure. Tiger makes a par three but Poulter can't and now Team Europe are two up with five to play. We've seen how much that counts for already this afternoon.
17.16 – SPLASH! That's not what Westwood and Molinari need. Lee's tee shot at 15 goes into the water and they'll need to pull off a minor miracle if they are to prevent themselves going two down with three to play.
17.17 – Here's the latest from David Elkin in Toronto:
What a ridiculous momentum shift.

The McIlroy/McDowell match game going down the 18th is so important for the mentality of the European team. They should have closed this one out before. Even a half will feel like a loss. Also, would be great to see Jim Furyk not win this morning. I think you can guess that he's annoyed me.

The lack of confidence I have in Sergio is astounding for such a Ryder Cup "veteran". His foursome record was unbeaten before today but his missed putt there was vintage Sergio. He knew he wasn't making it, I knew he wasn't making it. And then he fluffs his chip to lose the match. All credit to Ray Liotta (Keegan Bradley) though. Ridiculous putt and play throughout this morning. But Sergio. I feel like I have spent years of my life watching him miss three foot putts.

The back nine has been all America. I told you I'm a worrier – this doesn't help.
17.20 – Somebody has planted a few European trees along the 18th fairway. Snedeker and McIlroy's drives are equally awful to the right but while Snedeker's stays in the bushes, McIlroy's clips the top of a tree and pops back out into the first cut of rough. Chance?
17.24 – You daisy, Rory! McDowell's second goes into the front bunker but McIlroy saves it to leave a six- to eight-footer for par.
Furyk now has a 25-footer for par. It all comes down to the putts…
17.26 – Furyk… misses! Not by much, it just turned back to the right. McDowell, the hero of Celtic Manor, has a putt for the win.
17.27 – USA 1-1 Europe: McIlroy & McDowell beat Furyk & Snedeker 1 up
My nerves may have caused me to exaggerate the length of McDowell's putt slightly. It's about a five-footer but he holds his nerve and it's European fist bumps all round. McIlroy and McDowell snatch victory from the jaws of snatching defeat from the jaws of victory… or something like that.
Get. In.
17.33 – Here's how we stand now:
McIlroy & McDowell beat Furyk & Snedeker 1 up
Mickelson & Bradley beat Donald & Garcia 4&3
Dufner & Johnson 2 up Westwood & Molinari thru 15
Stricker & Woods 3 down Poulter & Rose thru 14
17.34 – Nice words from G-Mac: "I've got the best player in the world beside me. He makes my job easy."
17.35 – USA 2-1 Europe: Dufner & Johnson beat Westwood & Molinari 3&2
Game over for Westwood and Molinari. Westwood's putting has been decidedly average today — and that's being kind — and he misses a seven-footer for par. Dufner makes no such mistake with practically a gimme from two feet and America take this point 3&2.
17.47 – Here are the pairings for this evening's fourballs. Incredibly considering how they've played this morning, Woods and Westwood both return.
Also, how awesome does Mickelson & Bradley v McIlroy & McDowell look?
6.05pm: Watson & Simpson v Lawrie & Hanson
6.20pm: Mickelson & Bradley v McIlroy & McDowell
6.35pm: D Johnson & Kuchar v Rose & Kaymer
6.50pm: Woods & Stricker v Westwood & Colsaerts
17.50 – In the one game that's still on course, Poulter and Rose lead Stricker and Woods by two with three to play. One more hole for Team Europe and we'll go into the evening's fourballs at two points apiece.
17.58 – On 16, Poulter has roughly a 10-foot putt to halve the hole and leave this match dormie two…
18.01 – Stricker & Woods 2 down Poulter & Rose thru 16
With the eyes of a madman, Poulter rolls it in to guarantee Europe a half at a minimum. I shudder to think of how he'll react when he's told he's not playing this afternoon.
18.05 – With a half-point at minimum secured for Europe in the afternoon's final match, that's where I'll leave you. It has been a pleasure to take you through an unbelievably dramatic afternoon — Adrian Russell has pulled on his plus-fours and McIlroy wig, and he'll see you through this evening's cracking fourballs.
Allez l'Europe!
18.13 – As someone said during the week: Planet Earth by birth, Europe by the grace of God. Let's do this, shall we?
I'm in the the hot seat for the night – and this is the schedule, ladies and gentlemen: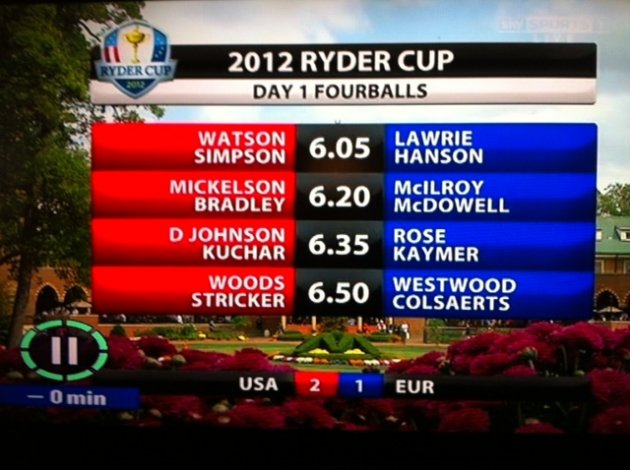 And we'll head into that lot, with the scores tied up. Rose and Poulter have won their match 2&1: USA 2 Europe 2
18.18 – My friend and yours, David Elkin in Toronto, has been in contact again. Here's what he has to say about the afternoon pairings:
"I know I might be proved wrong (I usually am) but when I saw Paul Lawrie and Peter Hanson as the first pairing my heart sank. It goes back to the lack of depth outside the original 8 for Europe. The US have drafted in two major champions to lead them out this afternoon — Bubba and Webb Simpson. That's the difference. Sure, Lawrie is a major champion. But that was in 1999. I fear it would be clutching at straws to reference his Open victory.

But still, a bit of steal there for McDowell and McIlroy. I do think they deserved the point this morning on the balance of things. But Snedeker's drive on the 18th was poor. I'm surprised Furyk didn't consult the rules official on the 18th to try and weasel a half point from nowhere.

Also, I don't want to be too hyperbolic here, but is this the worst round Woods has ever played in a high profile event? Everything from his comically inaccurate drives to his short putts have been so bad today. I never thought I'd feel sorry for Steve Stricker, but he has to play with him again this afternoon.

But Fourballs is such a different dynamic, with both players having their balls in play. It is less high risk, so some of our less in-form players (hopefully Martin Kaymer remembers how to swing a club) might be able to pull something off."
Drop me a line at adrian@thescore.ie of you want to get involved. Worst round of golf ever from Eldrick?
18.21 – Monty says he would have pulled Tiger after nine holes while Butch Harmon — staring down the camera and into your soul — says he's never seen the big dog play worse. Rory tees off as I type with his pal G-Mac. We'll keep a close eye on that one.
Any predictions for the score after day 1?
18.33 – Is there a button that makes mutes Monty? I can't find it.
18.35 – Update, early doors:
Lawrie and Hanson two down after two now.
Rory and G-Mac one down after one.
18.54 – Here we go with Westwood and Colsaerts (the first Belgian to line out in the tournament, we're told) v Woods and Stricker. As an uncle of mine often warned me – I hope Tiger and Westwood had an AGM with themselves after those displays earlier.
19.03 – Sergio Garcia was just on 5 live Sport with Luke Donald:
"Three great putts of ours lipped out. If they go in, different story. That is matchplay. You need momentum on your side and unfortunately we didn't have it today and they won."
19.07 – 'Rory and Graeme are in big trouble' — indeed they are. Keegan Bradley and Lefty are storming it with the new boy putting the pair's third birdie to go three up after three. It's all USA. Earlier he walloped a drive nearly 400 feet.
Elsewhere, Tiger is pumping his fist and is smiling again as he and Striker go one up.
19.10 – Here comes the final group then – Kuchar and Johnson v Rose and Martin Kaymer, for the first time today. The US skipper — Coach Love as Butch Harmon insists on calling him — changed up the order at the last minute.
19.14 – So here's how it stands:
More red there than Páirc Uí Chaoimh.
19.19 – Speaking of Cork GAA supporters, Johnny Healy spots this Rebel in Chicago. "Off to the Ryder Cup?" he writes, "Only pack the essentials..is nowhere safe from the 'Man in GAA jersey'
19.21 – Watson/Simpson v Lawrie/Hanson – US three up after four: the shouts of U-S-A, U-S-A are coming from all over the course and Europe have no answer to the American charge at the moment. I believe it's what they call 'Big Mo' in presidential elections. Coach Love's got it right now.
19.24 – As President Van Rompuy might want it – the rallying call for Europe echoes out from Brussels. New boy Colsaerts knocks in a 25-footer, baby, for birdie at two earning a half that will rightly rankle with the Americans. They should be two-holes up there.
19.27 – Which one of you crazy maniacs wanted another update?
RED: Watson and Simpson are 3 up through 4
RED: Mickelson and Bradley are 3 up
RED: Woods and Striker are 1 up through 2
BLUE: Rose and Kaymer are one up after 1
19.48 – Bubba's here too! He puts the US four up through 6 – and that's serious for Lawrie and Hanson, says Monty. So the US are up in three and it's all square in the last match. Cue picture of Ollie, looking like he has a headache in his tummy.
19.59 – Here's the latest from our graphics department:
"Colsaerts is steaming out there, he's bent in a monster on the fourth to get that match back to all square," according to the BBC. And they're not wrong. He's playing a blinder.
20.01 – David Elkin writes from across the pond:
"Westwood is really playing poorly today. Not just his normal putting woes, but the rest of his game is uncharacteristically bad. Colsaerts is looking good though, hopefully he can keep them in that match against a resurgent Stricker and Woods. I think Stricker is just happy Woods isn't driving for him every other hole. I was wondering what ludicrous scenario would need to happen in the match for a newspaper headline to be "Liquorice Colsaerts". I'm not ruling it out just yet. A delicious pun.

The Irish boys need to win a hole to stop the momentum of Mickleson and Keegan Bradley. Bradley is a machine today. A golf machine. I feel if McIlroy or McDowell could win back one hole Bradley might calm down and cut the adrenaline out. He's annoying me with his brilliance and enthusiasm.

I'm writing off Lawrie and Hanson, as I feared I would have to. So it's up to the likes of Justin Rose to keep up the performances and keep parity.

Still early in the afternoon though"
Have your say in the comments section below or email me. Or don't. See if I care.
20.08 – Johnson and Kuchar one up Rose and Kaymer thru 4
Kuch does the job and puts the Americans back on top in three of the four matches.
20.16 – Watson and Simpson 6 up on Lawrie and Hanson thru 8
That opening match featuring  versus  is now a complete and utter embarrassment.
20.22 –
20.34 – Johnson and Kuchar 2 up on Rose and Kaymer thru 5
Business as usual for 'Kuch' as he holes it out to keep on trucking.
Watson and Simpson 6 up on Lawrie and Hanson after 9
Blow it up, ref.
It's all square with Woods and Stricker while Mickelson and Bradley are 3 up on the Irish duo.
20.39 – 'This is unbelievable golf' sighs Monty as Bradley drops in another putt, turning away with a clenched fist.
20.54 – I'm pretty interesting in Galway too as Connacht are running Leinster ragged.
But back in Illinois, let's have another run around the houses.
Watson and Simpson are 6 up on Lawrie and Hanson thru 9
Mickelson and Bradley are 4 up on McIlroy and G Mac thru 8
Woods and Stricker are all square with Westwood and Colsaerts thru 6
Johnson and Kuchar all square with Rose and Kaymer thru 6
21.03 – From the Guardian:
A superlative up and down from Stricker on 7 leaves Colsaerts with a testing six footer for a half. The rookie is up to the task, rattling the putt straight into the cup. The match remains all square; it's been almost totally down to the Belgian. I still have no idea why Westwood was sent out again this afternoon
21.11 – So roughly halfway through the night, how — as David Byrne asked — did we get there? Ollie will be absolutely delighted if they can get back to the team room having salvaged something form their afternoon's work because they've been annihilated so far. They need to get something out of the the final match because the first two are dead and gone, if you ask me. Golf, eh? Bloody hell.
21.18 – The Americans have managed to win 17 holes in the fourballs so far tonight; the European pairing in that disastrous first rubber, Lawrie and Hanson have finally managed to win one however. It's Europe's fifth of the afternoon.
21.20 – Paul Hayward writes: "Not suggesting Michael Jordan is flash but he was following Tiger Woods with two cigars the size of dynamite sticks. Both in one fist."
21.28 – Think we're having some technical issues on the site (who fed the Gremlins?) but we'll plough on… David Elkin drops us a line form Canda again
Well, Keegan Bradley is just not letting up. I thought he might have tuckered himself out with all his jingoistic jumping around earlier but he actually will not stop playing unbeatable golf. Much to my annoyance. Actually, you could say the same for all the US team this afternoon except for Tiger. There hasn't been the customary swing in momentum. It's solidly been USA all afternoon.

Ah yes, they have finally shown a shot by Martin Kaymer there. And it's a missed putt. He has been off form for a long time now, and is joining Peter Hanson and Paul Lawrie in the list of ignominious European performances today. I'm really questioning the decision to put the Hanson/Lawrie out first. If ever there was a momentum killing pairing it is that.

The afternoon is, obviously, not going well. We need the Colsaerts/Westwood partnership to get a point and then maybe scrape a half from the Irish boys (not looking likely) or the Rose/Kaymer (shudder) match. I would not fancy any of those scenarios coming off though. Would take a sum total of one point if offered now."
What do you think?
21.36 – "I dunno if its cause Harrington was left behind or what" writes reader Brian below, "but i have to say i have no interest in it this year for the first time in twenty years."  Anyone else feel like that?
21.38 – We've got a little bit of blue on the board…
21.53 – Mickelson and Bradley 3 up on Irish boys after 12
McIlroy taps in for a half and the status quo is retained with 6 to play.
"It doesn't look great for Europe," Bernard Gallagher said on Five Live moments ago. "We've somehow got to get a point this afternoon. That would be key, as far as our captain is concerned. We have great players and they will go into the clubhouse tonight very angry with themselves and very keen to make amends tomorrow.
"Europe would probably be doing better is Garcia and Poulter were playing, but it's easy with hindsight. It's often a good idea to give everyone a taste of the golf course on the Friday. But take an overview: the American are putting brilliantly, at a new level. Webb Simpson, Keegan Bradley and Phil Mickelson are out of this world."
He's really not exaggerating.
Elsewhere, it's
Watson and Simpson 5 up on Lawrie and Hanson thru 13
Westwood and Colsaerts 2 up on Woods and Stricker thru 10
Johnson and Kuchar 3 up on Rose and Kaymer through 9
22.00 –

Watson/Simpson bt Lawrie/Hanson 5&4
The Masters champion and the US Open champion wrap it up against Lawrie and Hanson, putting the USA ahead on the scoreboard again. Thank God that's over.  Hanson looks exhausted.
22.05 – David Elkin has been on the laptop again – he's done more writing than me today. Drop us a line too.
"Good to finally get that Lawrie/Hansen partnership off the course. Now, I like to scapegoat as much as anyone, so it probably would be harsh to "bench" them until the singles on Sunday. But I can't see them contributing to the foursomes/fourballs tomorrow – where Europe will need to win well.

McIlroy and McDowell are just about hanging in. Still 3 down with 6 to play. McIlroy has made one birdie all day though. Not good enough in Fourballs. I still think they should remain a pair for tomorrow morning though. I'm biased though, so ignore my McIlroy/McDowell related opinions.

In the post-round interview, the ESPN reporter straight up asked Bubba about his Dad who died last year in a blatant attempt to get him to cry (not the most difficult task with Bubba at the best of times). This is a pattern in post-match sports interviews that makes me uncomfortable as it's so forced to create a "moment".
22.26 – I thought Martin Kaymer was good at golf, no? We won't see the big German 'til Sunday, I reckon.
22.29 – Is there hope for the Irish duo? McIlroy birdies 14 to hang on against Bradley and Mickelson to get it back to 2 down with 4 to play. I'm going to go out on a limb and say the next hole is very important.
22.43 – Colsaerts and Westwood 2 up thru 13 over Woods and Stricker
Colsaerts! This dude is only in the door and he's leading this team today. The Belgian rookie is eight under for 13 holes; he's birdied that latest one and tightened his and Westwood's grip on the rubber.
22.59 – Have you seen these inserts in Sky Sports' coverage today? Prett-ay, Prett-ay good.



23.05 – Rory McIlroy misses by inches from 'downtown' as Michael Jordan might saw on the other side of the rope.  Elsewhere that wacky Belgian, Colsaerts notched a rare mis-hit today bur recovers very well. Kaymer again makes the case for Poulter's inclusion. Can we sub him on now?
23.09 – The gallery erupts as Lefty puts the tin hat on his day's work with a stunning tee shot, that will probably wrap up his and Bradley's rubber with McIlroy and G-Mac. Yes, I type that's it — the four shake hands as shouts of U-S-A ring out. Another point for the hosts. 'That's good golf' says Monty, graciously.
23.27 – Colsaerts and Westwood two up on Woods and Striker thru 15
The rookie does it again, pulling out a birdie after his more experienced playing partner found the water. They really need to see this one home.
23.40 – Despite someone shouting 'Get in the hole' , Kuchar fails to do so, from under 10 feet. Who knew? They're tow up thru 14 as things stand.
23.46 – Johnson and Kuchar 3 up with 3 to play against Rose and Kaymer
So the American duo can't lose this rubber obviously and that means Europe will lose this 'session' as they might say in snooker.
Colsaerts and Westwood 1 up on Woods and Stricker thru 16
Tiger storms to the next hole, pointing skywards like Alan Shearer after a goal. He sealed the deal with a neat putt in that drew massive acclaim from the gallery and his team-mates sitting by the rope. This one's in the mix.
23.51 – Remember 6pm this evening before this whole mauling (God, we were innocent then!)… well, I wonder if Monty stands over his opinion that Tiger should be benched. Eldrick has earned his place this evening with some serious fighting down the back stretch.
0.02 – Kuchar and Johnson beat Rose and Kaymer 3 &2
The fat lady is clearing her throat here. Colsaerts and that other chap are one up in the last rubber. David Elkin has been in contact:
My God. Colsaerts is ridiculous. Liquorice Colsaerts will be a headline somewhere. In general though, looks like it could be sweeping towards a 3-1 or worse this afternoon. Too many bad players out there for Europe. Kaymer and Westwood specifically. I mean, given Westwood's status in the game, to not make a birdie so far is more than disappointing. Colsaerts is carrying them but that still might not be enough.

Rose has played well, but can not handle playing two players by himself either. Kaymer to be benched until Sunday surely. I wouldn't want Kaymer chatting to the players around the course tomorrow — he has that much of a negative effect. Joking, obviously, but please don't play him.

So, for tomorrow I would go with:

Donald and Colsaerts
Rose and Poulter
McIlroy and McDowell
Westwood and Garcia

I know Westwood has played badly but there isn't anyone else I would put ahead of him. Kaymer? Hanson? Molinari? Lawrie? Ugh.

The US can put out nearly any combinations on current form and expect a good performance. They could audaciously rest a player and send Bradley out by himself and he'd get a point single-handedly. Well, no. But still. Tomorrow morning is massive now for Europe. They need better than the 2-2 parity achieved this morning.
0.18 – Westwood and Colsaerts beat Tiger and Striker 1 up
Ooof! Tiger thought he had it but it lipped out and Europe take the point. I hope Westwood buys his rookie partner a beer and massages his back later because he's carried him all day. He's had the round of his life. Colsaerts says afterwards 'you know what you have in your pants'. Quite right.
0.20 – So that's your lot? Meet you back here in the morning? Getinthebed!