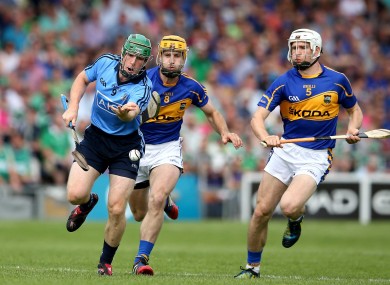 WILL TIPPERARY OR Dublin book a place in the All-Ireland senior hurling semi-final?
We're live from Semple Stadium and we're going to follow the action all the way.
As always, we'd love to hear your comments. Send them to fintan@thescore.ie, tweet them @TheScoreGAA, find us on Facebook, or leave a comment below.
***************
Tipperary 2-23 Dublin 0-16
15.25 – Here's the Dublin team named to start today:
DUBLIN
1. Alan Nolan
2. Shane Durkin
3. Peter Kelly
4. Niall Corcoran
5. Stephen Hiney
6. Liam Rushe
7. Michael Carton
8. Joey Boland
9. Johnny McCaffrey (c)
10. Ryan O'Dwyer
11. Alan McCrabbe
12. Danny Sutcliffe
13. David O'Callaghan
14. Conal Keaney
15. Colm Cronin
15.26 – And here's the Tipperary team
1. Darren Gleeson (Portroe)
2. Paddy Stapleton (Borris-Ileigh)
3. Paudie Maher (Thurles Sarsfields)
4. Michael Cahill (Thurles Sarsfields)
5. Brendan Maher (Borris-Ileigh)
6. James Barry (Upperchurch-Drombane)
7. Cathal Barrett (HolycrossBallycahill)
8. Kieran Bergin (Killenaule)
9. James Woodlock (Drom & Inch)
10. Gearóid Ryan (Templederry)
11. Patrick Maher (Lorrha-Dorrha)
12. John O'Dwyer (Killenaule)
13. Noel McGrath (Loughmore-Castleiney)
14. Seamus Callanan (Drom and Inch)
15. Lar Corbett (Thurles Sarsfields)
15.36 – Adrian Russell here manning the fort for a bit while Fintan heads down to the bowels  of Semple (why does a stadium always have 'bowels'?).
He'll be getting some post-game reaction to that Limerick hammering of Wexford before getting back up to the press area before throw-in for the second game.
So what's your prediction for the top-of-the-card Tipp and Dublin clash?
15.42 – We're getting ahead of ourselves, I know… but a great tidbit from friend of TheScore, journalist Denis Hurley.
"Should Tipp win, it would mean a first-ever chship meeting between them and Cork in Croke Park."
That'd be tasty.
15.48 – The managers have just been talking to Joanne Cantwell on the TV broadcast. Eamon O'Shea says there's nothing between the sides and admits 'there's always pressure when you're Tipperary.
Anthony Daly says his team are 'keyed up' and he looks the same to be honest. He could still do a job.
15.58 – In wrestling parlance, this is a loser-leaves-town match. But Davy Fitz in the RTÉ studio in Thurles says his former colleague Dalo isn't under pressure and doesn't need to prove anything.
He's had a phenomenal six-year term so far in the capital. But would Anthony Daly come back for a seventh if Tipp come out on top this afternoon?
16.01 – We're currently observing a minute's silence for Dermot Hogan, the Offaly U21 boss who died tragically at his home this week.
16.03 – And we're underway in Thurles.
16.04 – First blood to Dublin with Daniel Sutcliffe finishing well after an Alan McCrabbe pass. Moments later Seamus Callanan wastes a good chance to open the Premier's account.
16.06 – Tipperary 0-1 Dublin 0-1 What a point from Larry Corbett to get Tipp going. The Thurles native took possession with his back to goal with a sublime touch and he then lofted it over from way out.
16.07 – Tipperary 0-3 Dublin 0-1 John O'Dwyer puts Tipp ahead for the first time after four minutes with a free and then Corbett adds another monster point from the other side of the pitch. Brilliant stuff.
16.09 – Tipperary 0-3 Dublin 0-3: 8 mins – Fintan O'Toole here back on duty in Thurles and Dublin have drawn level thanks to a pair of Alan McCrabbe frees.
16.10 – Tipperary 0-4 Dublin 0-3: 9 mins – A Drom-Inch combo sends Tipperary ahead, Seamus Callanan teeing up club mate James Woodlock for a point.
16.13 – Tipperary 0-5 Dublin 0-3: 12 mins – Seamus Callanan slots a point from a free and Tipperary go two ahead.
16.18 – These lads have made the trip to Thurles and are showing who they're shouting for.
Source: James Crombie/INPHO
16.18 – Tipperary 0-7 Dublin 0-4: 17 mins – Tipperary motoring nicely. Bonner Maher from play, Callanan from a '65 and they're three points clear.
16.23 – Tipperary 0-10 Dublin 0-4: 21 mins – Tipperary crank up the gears and find scores easier to manufacture. Callanan and McGrath both fire over from play. Then Bonner Maher nearly hits the net but the ball is deflected out for a '65 which Callanan converts.
16.25 – Tipperary 0-10 Dublin 0-6: 24 mins – Better from Dublin as McCrabbe and McCaffrey both strike points.
16.26 – Sub: Dotsy O'Callaghan on for Dublin for Conor McCormack.
16.27 –
Source: Cathal Noonan/INPHO
16.31 – Tipperary 0-11 Dublin 0-7: 30 mins – Points traded, Callanan from a free for Tipperary and Treacy from play for Dublin. 
16.33 – Tipperary 0-12 Dublin 0-7: 32 mins – Callanan's red hot scoring streak continues as he nails another free.
16.35 – Tipperary 0-13 Dublin 0-7: 34 mins – Long raking clearance from defence by Padraic Maher sees John O'Dwyer gather in space. Bubbles doesn't miss those chances.
16.37 – Tipperary 0-15 Dublin 0-7: 36 mins – Noel McGrath and Gearoid Ryan put further daylight between the sides.
16.39 – Half-Time: Tipperary 0-15 Dublin 0-8 - The half ends with an Alan McCrabbe pointed free for Dublin.
16.47 – 43,088 here in Thurles today.
16.52 – Dublin back out for the second half. They need serious improvement. Could a defeat today mean it's the last game of Anthony Daly's reign?
16.53 – Now Tipperary are back out on the pitch.
16.54 – Sub: Paul Ryan on for Dublin for Colm Cronin at half-time.
16.56 – Tipperary 0-16 Dublin 0-8: 37 mins – Dublin wanted a strong start to the second-half but it's Tipperary who have opened the scoring through Gearoid Ryan.
16.58 –
Source: Cathal Noonan/INPHO
17.00 – Tipperary 0-16 Dublin 0-9: 41 mins – Good news for Dublin as McCrabbe points a free. Bad news as Sutcliffe limps off with an ankle injury and Niall McMorrow comes on to replace him.
17.04 – Tipperary 0-18 Dublin 0-9: 45 mins – It's a slow burning afternoon of hurling and Tipperary continue to keep Dublin at arms length. Callanan pops over two frees and unless something drastic happens, it's difficult to see Dublin launching a revival. They need goals quick to ignite them.
Sub: Joey Boland is in for Dublin for McCrabbe.
17.05 – Penalty for Dublin as Dotsy O'Callaghan is fouled.
17.07 – Tipperary 0-18 Dublin 0-11: 48 mins – Paul Ryan converts a free and then strikes a penalty that is saved before Keaney points the rebound.
17.08 – Tipperary 0-18 Dublin 0-12: 50 mins – Keaney points again. Gap down to six. Dubs fans starting to believe?
17.11 – Tipperary 1-18 Dublin 0-12: 52 mins – Just like that Tipperary intervene and quell the Dublin revival. A counter-attack sees Seamus Callanan break and they have the numbers over to allow him to pop the ball to John O'Dwyer who finishes low past Alan Nolan.
17.12 – Tipperary 1-18 Dublin 0-13: 54 mins – Dotsy O'Callaghan wriggles clear and pops over a point for Dublin.
17.14 – Tipperary 1-18 Dublin 0-14: 56 mins – Now substitute Eamon Dillon points for Dublin.
17.17 – Sub: Denis Maher on for Tipperary for Noel McGrath.
17.18 – Tipperary 1-19 Dublin 0-15: 60 mins – Gearoid Ryan and Paul Ryan trade points.
17.20 – Tipperary 1-20 Dublin 0-15: 61 mins – Torrential shower of rain here in Thurles but it doesn't look like dampening the party for Tipperary. Callanan knocks over his 10th point of the day and Tipperary are eight to the good.
17.23 – Tipperary 2-20 Dublin 0-15: 64 mins – Game, set and match. John O'Dwyer notches his and Tipperary's second goal of the day but only after Dublin's Alan Nolan produced a stunning save to deny Patrick 'Bonner' Maher.
17.27 – Tipperary 2-21 Dublin 0-15: 68 mins – Callanan slots another free for Tipperary. This one is done and dusted.
17.29 – Tipperary 2-22 Dublin 0-15: 70 mins – Tipperary nab another point, this time from substitute Shane Bourke.
17.30 – Tipperary 2-23 Dublin 0-15: 72 mins – Callanan strikes another free for Tipperary.
17.31 – Full-Time: Tipperary 2-23 Dublin 0-16