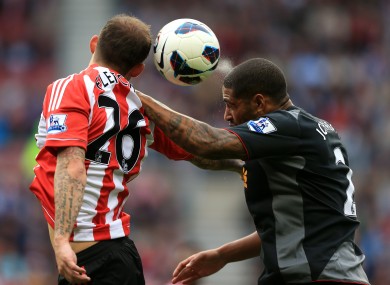 As always, we'd love you to get in contact, so send us your thoughts by emailing paul@thescore.ie, via Twitter@thescore_ie, find us on Facebook, or leave a comment below.
You may need to refresh to see videos and images.
Sunderland 1-1 Liverpool (FT)
17.43 – The game has yet to develop much of a rhythm yet and there's been minimal goalmouth action so far.
Neither side have started the season in a particularly confident fashion and the opening few minutes are perhaps a reflection of their somewhat lacklustre form.
17.52 – Cuellar's back header is a little short and Borini attempts to blast it, but Mignolet makes a good block.
The Liverpool attacker might have been better off squaring the ball in that instance. Still though, at least there's been a chance in this less-than-lively encounter.
Down the other end meanwhile, Seb Larsson curls a free kick narrowly past the post, as there are increasing signs that this match is belatedly coming to life.
17.58 – Another chance, as a snap shot by Borini following a lovely Suarez lay off forces a good reaction save from Mignolet.
Unfortunately for Keiren Westwood, the Sunderland goalkeeper has looked extremely alert in these opening stages.
The same cannot be said for Irish midfielder James McClean however, who has twice given it away cheaply now.
18.03 – Great work from Gardner, who goes past Johnson as if he wasn't there, and he produces an inviting cross for Fletcher to tap in.
Skrtel will be disappointed that he let the Scottish striker get ahead of him there.
And Sunderland, having scored out of nowhere, are clearly more confident now, and look capable of adding a second all of a sudden.
18.23 – So it's been a pretty poor first-half in truth.
Sunderland gained some momentum after Fletcher's opportunistic finish gave them the lead, before the game dipped into another lull in the last few minutes of the half.
Liverpool have offered even less in attack, barely threatening apart from two Borini half-chances.
It's been said before, but the visitors really could do with someone like Andy Carroll to give their anemic attack some bite.
18.44 – Great skill by Sessegnon to turn his marker and subsequently win a corner.
The Beninese footballer has been one of the more accomplished performers this afternoon and has looked particularly lively in the last five minutes.
18.48 – Some nice passing and movement from Sunderland there, ending with Colback excitedly blasting a shot over the bar from distance, when he had the opportunity to play McClean through on goal.
Down the other end, the ball falls to Steven Gerrard following a goalmouth scramble, and he shaves the post with a shot from the edge of the area.
18.52 – As if things couldn't get any worse for Liverpool fans, Stewart Downing has just entered the action in place of the disappointing Borini.
He'll probably score an absolute stunner now that I've typed that.
18.57 – Glen Johnson has just blasted over, but Liverpool have increased the pressure on their opponents' goal.
Martin O'Neill's men are playing with fire by dropping deep.
19.02 – Luiz Suarez is on hand to smash it home at the second time of asking, following a poor attempted clearance by Bramble.
Liverpool have undoubtedly upped the pressure in this second half and the goal is no more than they deserve.
Sunderland, meanwhile, have played into their hands, dropping increasingly deep and ostensibly settling for the 1-0 win.
19.17 –
(Sunderland's Danny Rose and Liverpool's Raheem Sterling engage in a bit of wrestling – Steve Drew/PA Wire/Press Association Images)
19.29 – So Liverpool are at least out of the relegation zone after that performance, while Sunderland continue to languish in 14th place.
It's hard to say which side will be happier – Liverpool began to play better football in the second half, but will be frustrated with the outcome.
Sunderland, meanwhile, will be relieved to have at least escaped with a point, but fans can expect an uncomfortable season if that unimpressive performance is anything to go by.