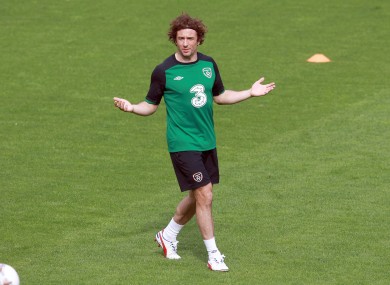 Hunt was snubbed by Trap at the Euros.
STEPHEN HUNT GAVE an interesting interview to Newstalk's Off the Ball recently, in which he spoke of his heartbreak at not featuring for Ireland at the Euros and his natural jealousy at the level of attention James McClean's been receiving lately.
Hunt had been a regular fixture in the Ireland side prior to the tournament, but to the surprise of many, Giovanni Trapattoni opted not to use him once this summer.
And while he maintained that he accepted the Italian manager's decision to select Simon Cox among others in his position, he also expressed his personal belief that the manager was wrong to do so.
However, despite recent snubs, Hunt is remaining upbeat, with the winger saying he is hopeful of starting Ireland's World Cup qualifier against Sweden in March.
So what do you think?
Should Hunt be considered for selection or is it time for both parties to move on? Does he have a future with the international team?

Poll Results: