Koscielny after scoring for Arsenal.
Image: Owen Humphreys/PA Wire/Press Association Images
THE CURTAIN CLOSES on the current Premier League campaign this afternoon, with all 10 games kicking off at 4pm.
As always, we'd love to hear your thoughts on the final day of the season. E-mail ben@thescore.ie, tweet @thescore_ie, post a message to our Facebook wall, or leave a comment below.
You may need to refresh the page for YouTube videos and other elements to display correctly.
Chelsea 2-1 Everton
Liverpool 1-0 QPR
Manchester City 2-3 Norwich
Newcastle 0-1 Arsenal
Southampton 1-1 Stoke
Swansea 0-3 Fulham
Tottenham 1-0 Sunderland
West Brom 5-5 Manchester United
West Ham 4-2 Reading
Wigan 2-2 Aston Villa
15.30 – Welcome along. We've reached Matchday 38 meaning the Premier League draws to an end this afternoon. Manchester United have already been crowned champions while QPR, Reading and Wigan are going down meaning we won't witness any great escapes, sadly.
The race for Champions League football will go down to the wire, however. Chelsea are all but guaranteed a place in the top 4 while Arsenal will secure a spot too if they win at Newcastle. Spurs, meanwhile, can leapfrog their rivals if they defeat Sunderland and the Gunners fail to win.
One other thing – in the unlikely event that Chelsea and Arsenal finish with identical totals, they will meet in a third place play-off at Villa Park next Sunday. Right, that's that out of the way.
15.40 – There are also a number of significant retirements today. Alex Ferguson and Paul Scholes say farewell to Manchester United while Liverpool legend Jamie Carragher is also hanging up his boots.
At the DW Stadium, Aston Villa fans will pay tribute to retiring captain Stiliyan Petrov by wearing masks of the Bulgarian midfielder – who is battling cancer.
Credit: Martin Rickett/PA Wire/Press Association Images
16.06 – GOAL! Wigan 0-1 Aston Villa (Darren Bent)
Villa's out of favour striker has put them ahead. He receives a pass from Gabby Agbonlahor and drills a shot into the bottom corner from 20 years.
16.08 – GOAL! Chelsea 1-0 Everton (Juan Mata)
Chelsea take the lead after Demba Ba's strike is blocked and the Spaniard slots home the rebound.
16.08 – GOAL! West Brom 0-1 Manchester United (Shinji Kagawa)
Great start to Alex Ferguson's last game in charge – Kagawa gets on the end of an Antonio Valencia cross to head in an opener.
16.11 – GOAL! West Brom 0-2 Manchester United (Olsson own-goal)
Untied have doubled their advantage and again Valencia is involved. Jonas Olsson attempts to clear his ball but sends it past Ben Foster in the Baggies goal.
16.15 – GOAL! Chelsea 1-1 Everton (Steven Naismith)
The Scottish international draws the Toffees level after snatching the ball from David Luiz and playing a one-two with Victor Anichebe.
16.21 – GOAL! Wigan 1-1 Aston Villa (Emmerson Boyce)
They're all-square again. Boyce heads in from a Roger Espinoza cross.
16.23 – Controversy at White Hart Lane. Gareth Bale bursts into the Sunderland box but is shoved to the ground by Seb Larsson. It looks a blatant penalty but referee Andre Marriner amazingly signals a free kick to Sunderland – then books Bale!
Crazy decision.
16.24 – GOAL! Liverpool 1-0 QPR (Coutinho)
A fine strike by the young Brazilian on 23 minutes.
16.27 – GOAL! Man City 0-1 Norwich (Anthony Pilkington)
We have a first Irish scorer of the day as the winger puts the Canaries in front at the Etihad.
16.32 – GOAL! Manchester City 1-1 Norwich (Jack Rodwell)
16.35 – GOAL! West Brom 0-3 Manchester United (Alexander Buttner)
A fine team goal as the ball is worked out to the left where full-back Buttner drills a shot into the far corner. A walk in the park at the moment and some West Brom fans have already decided they have had enough.
16.38 – Jamie Carragher has attempted to punch the ball. Comical.
Credit: 101GreatGoals
16.44 – GOAL! West Brom 1-3 Manchester United (James Morrison)
The Baggies pull one back. Cleverly lose possession in midfield and Morrison diverts a low cross past Anders Lindegaard.
16.48 – GOAL! Wigan 2-1 Aston Villa (Nathan Baker own-goal)
16.51 – HALF-TIME – The whistles have gone and it's half-time around the grounds. No goals in the Arsenal or Spurs games.
17.02 – Here's that penalty incident involving Bale. Clear penalty surely?
Rolling around like a baby when it wasn't given is a little childish though.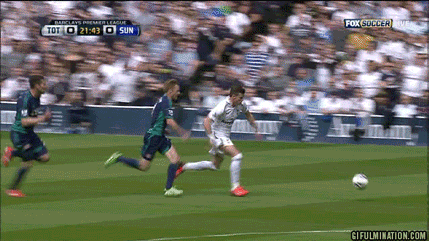 h/t: Paddy Power
17.07 – This is how we're looking at the beginning of the second half.
17.09 – Chance for Sunderland. Tom Huddlestone is robbed of the ball and Danny Graham's shot is well-saved by Simon Mignolet.
17.11 – Deary me, Spurs have just had another big penalty claim turned away. Adebayor has a pop at goal but it's blocked by the arm of Carlos Cuellar.
17.12 – GOAL! Newcastle 0-1 Arsenal (Laurent Koscielny)
The Gunners are in front. A free-kick is headed on and the French defender hooks his volley in from close range. Could be a huge goal.
17.15 – GOAL! West Brom 2-4 Manchester United (Robin van Persie)
Substitute Romelu Lukaku pulls one back but RVO then blasts in after another cross from Valencia.
17.18 – GOAL! Manchester City 2-2 Norwich (Jack Rodwell)
A second for Rodwell, who restores parity after a Grant Holt goal.
17.24 – It really hasn't been Spurs' day. They've just seen the ball cleared off the line TWICE by Jack Colback. Remains 0-0 and Moussa Dembele has just been introduced.
17.25 – GOAL! West Brom 2-5 Manchester United (Javier Hernandez)
Giggs to Chicharito, who taps in from a couple of yards.
17.33 – Paul Scholes is on for Manachester United for the last time. He has replaced Kagawa.
17.35 – GOAL! Chelsea 2-1 Everton (Fernando Torres)
17.37 – RED CARD FOR SUNDERLAND – Spurs have an extra man as David Vaughan has been sent off.
17.42 – GOAL! West Brom 3-5 Manchester United (Romelu Lukaku)
17.45 – GOAL! West Brom 4-5 Manchester United (Youssouf Mulumbu)
Incredibly, nine goals have gone in at The Hawthorns.
17.48 – GOAL! West Brom 5-5 Manchester United (Romelu Lukaku)
They've done it. A hat-trick for the sub.
17.50 – GOAL! Tottenham 1-0 Sunderland (Gareth Bale)
That man Gareth Bale has given Spurs a glimmer of hope with a wonderful long range drive.
17.50 – At St James' Park, Theo Walcott goes on a mazy run but hits the post. Three minutes of added time there.
17.53 – Remarkable…
17.54 – Full-time at WHL – Spurs win but it doesn't look like it will be enough as Arsenal still lead.
17.55 – ARSENAL HAVE FINISHED FOURTH – It's all over at St James' Park and the Gunners will play Champions League football next season.
They're still playing at The Hawthorns.
17.57 – The whistle blows and Alex Ferguson's last ever game as Manchester United manager has finished 5-5.