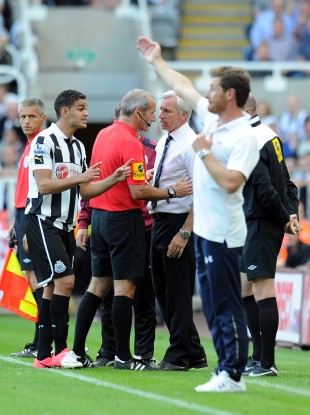 Image: Owen Humphreys/PA Wire/Press Association Images
PREDICTING THE SIX 3pm kick-offs proved a difficult task. Join us as we pick more random numbers and throw them on the scoreboard.
As always, we'd love you to get in contact, so send us your thoughts via Twitter @thescore_ie, find us on Facebook, or leave a comment below.
Newcastle United 2 – 1 Tottenham Hotspur
17.26 – Good afternoon. You join us just as Status Quo blares out across the Sports Direct Arena. Stand by for team news. The Spurs midfield looks good despite the absence of a certain small Croat.
17.30 – Martin Atkinson is the referee for this, the most enticing fixture of the opening day. Here are those teams you wanted. No room for Rafa van der Vaart or Jan Vertonghen in Spurs' starting line-up.
Newcastle: Krul, Simpson, Steven Taylor, Perch, Santon, Ben Arfa, Tiote, Cabaye, Gutierrez, Cisse, Ba.

Subs: Harper, Williamson, Anita, Gosling, Ryan Taylor, Shola Ameobi, Obertan.

Tottenham: Friedel, Walker, Kaboul, Gallas, Assou-Ekotto, Livermore, Sandro, Lennon, Sigurdsson, Bale, Defoe.

Subs: Cudicini, Vertonghen, Van der Vaart, Naughton, Jenas, Townsend, Kane.
17.39 – We're off and running in St James' Park – to give it its colloquial title – Brad Friedel launched the ball in the Magpies' half and Spurs won two corners, neither of which came to anything.
A slightly subdued ground, as the masses try to adapt their brown ale intake to the strong, hot sunshine.
17.41 – A slight worry for the Toon there as Cheik Tiote needs a dab of the magic sponge after a tackle, he's up and at it, but still moving gingerly enough.
17.45 – Gylfi Sigurdsson almost allowed a chance at a debut goal after Aaron Lennon seared down the right. He played the ball square to Bale, but he couldn't get a shot away and it deflected to the penalty spot. Sigurdsson slid in but his effort was saved and he was judged offside.
17.52 – United's new signing, Vurnon Anita, looks ready to come onto the field. Tiote is urging Alan Pardew to give him an extra few minutes to run off his knock and he looks good value for that benefit at present.
17.58 – ESPN commentator just announced Sandro as an Olympic silver-medallist purely so they could go to the stand where a fully accredited member of Team GB (a rower or something) was sat in the stands amusing herself with an iPhone.
Yes, it's been a cagey and tentative opening to this games… but as I type Demba Ba diverts a cross inches past the post. His first touch took all the pace of it and it seemed the ball would roll slowly past old-man Friedel, but he's got away with that one.
18.04 – Oooh, Danny Simpson is a fairly lucky boy. Already on a yellow, Gareth Bale breezed past him, but the former Man Utd full back cyically hung out a leg to take him down. Sigurdsson took the resulting free-kick and curled it towards Tim Krul's bottom right corner. The Duch 'keeper made little fuss over the save.
Newcastle are playing the vast majority of this game in their own half.
18.10 – 30 minutes in and Jermaine Defoe is a whisker away from breaking the deadlock. The striker showed excellent footwork and dribbled in off the left touchline. Danny Simpson isn't having his best game, he was left standing as Defoe tried to cut the shot inside Krul's near-post, but he hit the base of the woodwork and the ball bobbled back out across the six-yard baox and was cleared to safety.
18.14 – And CRACK!  It's the sound of another Spurs effort coming back off the woodwork. Newcastle are very fortunate to be level here. This time the chance came from Lennon's cross from the right flank. Gareth Bale drew back his shoulders and flexed his neck muscles to send his header over Krul, but it would not dip underneath the centre of the crossbar.
18.18 – We're five minutes from half time and St James Park sounds as if most supporters have made their way to the kiosk to ask for a refreshing barley water and maybe a cous cous salad.
Alan Pardew will be demanding a huge upturn in performance in the second half.
18.25 – HALF TIME: Newcastle 0 – 0 Spurs
Newcastle end the half on the attack. Demba Ba could be seen hugging Steven Taylor in one of the more bizarre set-piece routines. We're not sure it will catch on, though, Spurs instantly cleared the ball and Yohann Cabaye is booked as he curtailed the visitors' counter.
18.32 – Half time in the ESPN studio and Kevin Keegan, joined by the resplendent Frank leBoeuf, asks ' are Spurs going to be this year's Liverpool?'
Steady on, Kev. They've only hit the frame twice.
18.41 – The second half is underway. Cheik Tiote is still at the heart of the hosts' midfield and he is instantly getting stuck in to Jake Livermore.
18.50 – GOAL: Newcastle 1 – 0 Tottenham (Demba Ba)
And what a goal. 14 games without a goal and Ba begins the new season with a cracker.
Danny Simpson chipped a cross from the right towards Ba at the back post. Walker leapt to meet the ball with a header, but only succeeded in sending the ball straight up. Ba took possession left of the 18-yard circle, picked his spot and guided a gorgeous shot over Friedel with enough dip to find the far corner.
18.58 – You would have thought that would have pleased Alan Pardew, but he's been sent to the stands.
The move from Atkinson is non-sensical one, but you sense the powers the be gave him no choice. While gesticulating at the referees assistant he swung an arm and caught the lino on the back of the shoulder with  his outstretched palm.
Said referees assistant went whinging to Atkinson and Pardew is now fiddling with his headset in the seat where we normally see Mike Ashley swigging pints.
19.02 – The natural choice: AVB Is ready to throw Rafael van der Vaart into the mix.
19.04 – Well, that is a surprise. Villas Boas has chosen to give Sigurdsson the shepherds crook. To our eyes he seemed to be Spurs most effective player in that first half. The next 22 minutes will tell if the Portuguese's decision was a good one.
19.14 – GOAL: Newcastle 2 – 1 Tottenham (Ben Arfa '80 pen)
The Frenchman has been unusually quiet today, but typically he comes alive in winning time. On the left wing he found himself opposed to Lennon and Van der Vaart, two men Spurs fans would shudder to think would make a clumsy tackle in the box.
Lennon dragged Ben Arfa down just inside the area and he grabbed the ball, refusing to let go until he had it planted on the spot. From which point he duly blasted into the corner.
19.08 – Well, I owe Danny Simpson an apology. He's looked solid ever since Defoe rattled the post. His cross created the goal for Ba and now he has denied Aaron Lennon gilt-edged opportunity by hooking the ball away from the wee winger's chest 10 yards from goal.
19.11 – GOAL: Newcastle 1 – 1 Tottenham (Defoe '75)
There is the equaliser folks. The ever-dangerous Lennon dribbled down the left channel, cut inside to clip a cross to the back post. Santon very nearly registered an own-goal, but Krul Managed to keep his defender's header out. He could not react quick enough to deny Defoe from point blank range.
19.24 – Right, now we've had time to draw breath: the game has settled right back down again after that flurry of activity. Spurs don't look capable of upping the temp against this superior Toon midfield. Two minutes on the clock now.
19.29 – FULL TIME: Newcastle 2 -1 Tottenham Hotspur
19.39 – There you have it folks; thanks to Hatem Ben Arfa's penalty ten minute's from time and an uninspiring effort from Spurs, Newcastle can take their place in the top four of the Premier League tonight. They join Fulham, Swansea and West Brom with the day's other victors, West Ham sitting fifth as the only team to win and score a solitary goal.
Thanks for taking a break from that intense sunshine to stop in and check the score. I've got the factor 50 applied so I'm off out to soak up what remains of the vitamin d. But remember, we'll continue to bring you the latest news right through the evening and tomorrow we have even more minute-by-minute updates to come from Chelsea and Man City – not to mention Kilkenny and Tipp.
So until Sunday comes calling, it's goodbye from your friendly neighbourhood liveblog.
17.55 – Three minutes of injury time to be played. Nasri gets man of the match. Good call from Gary Neville.