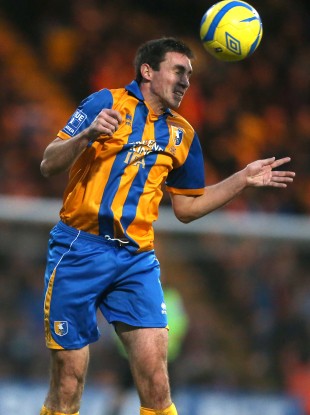 Image: Mike Egerton/EMPICS Sport
A FORMER IRISH international footballer has been forced to retire following a horrific injury in a pre-season friendly.
Mansfield Town defender John Thompson, 31, says he never fully recovered from the incident which left him hospitalised and needing almost 60 stitches in his face.
"I have desperately tried to get back playing to my full potential for almost two years now," said the Dubliner, who was part of the Ireland side which won the U16 European Championships in 1998.
"It has been a hugely frustrating time but I have now reached a point where I can't continue."
Thompson was one of three Mansfield players injured by Ilkeston FC striker Gary Ricketts before the August 2011 friendly was abandoned in the second half.
It was something that should never have happened on a football pitch. I had almost 60 stitches in my face, broke my nose, damaged my shoulder, and dislocated my finger.

I needed to have a major operation on my nose so I could breathe through it again and I could only eat through a straw for nearly a month.
©INPHO/Morgan Treacy
Though he returned to action four months later, Thompson was never fully right again and decided today to hang up his boots.
His club CV included spells at Nottingham Forest, Oldham and Notts County before he moved to Field Mill in 2011. He made his senior international debut as a late substitute against Canada in 2003.
"When I eventually got back playing after overcoming most of the physical issues, I soon realised I was doing things which I wouldn't normally do on the pitch. Panic attacks were common and I would not be able to sleep before games. My confidence on and off the pitch had been severely knocked.
"I have done everything I can, even seeing a psychologist at my own expense. My recovery is still ongoing.
"The last two years have been the hardest of my life."