Paddy Jackson misses a conversion attempt.
Image: ©INPHO/Dan Sheridan
TO HAVE THE possession you'd normally need to win two games and still come away with a loss is hard to take.
Ireland had so much of the play against Scotland and so much of it was good – they made clear line breaks and fashioned so many attacking opportunities in the Scottish half.
It was frustrating to see that all go to waste in the last couple of yards.
Paddy Jackson distributed the ball well and got the backline moving. He needed to keep the scoreboard ticking over and that was his major failing.
To play without a recognised kicker is madness. Paddy didn't have the trust placed in him, that much was obvious.
There was obviously a move in place to kick for the corner when penalties were awarded. They had decided that before the game and he was not allowed to take a couple of kicks on, potentially, his stronger side.
Without any debate, they went for the corner.
Scotland just hung in there and kept the scoreboard ticking. In fairness to them, they had some tackle count [154 made, 17 missed]. The statistics are insane.
Lineout woes
The lineout hasn't been functioning for the last couple of games and it has really cost us.
Scotland used Jim Hamilton and Rob Harley to great effect. On a couple of occasions, if they couldn't read the throw they just jacked their jumpers up as high as possible.
The rule with lineouts, first and foremost, is 'miss the opposition'. Unfortunately, it isn't happening and it is our Achilles' heel at present.
Scotland's Jim Hamilton dominates another lineout. (©INPHO/Dan Sheridan)
So much of the scrum is about attitude and Ireland were upset in that regard by the loss of Cian Healy.
The cohesion in the Irish front row wasn't there. Tom Court, when he went under pressure, didn't want any part of the fight.
Overall, only Luke Marshall, in the first half, truly stood out and there was a communal slide in performance that cost us.
What Irish team will show up next?
Declan Kidney's time is done. There shouldn't be a witch hunt but when his contract is up [in the summer], let it be up.
Kidney has the responsibility for picking the team but the players have to take their share of the blame.
They made great plays for getting into the opposition 22 but completely coughed up scoring chances. At minimum, three tries were butchered.
What's next? Well, we'll probably go out and kick the heads off France.
Normally you have to decide which France team is going to show up but at the moment you have no idea what Irish team is going to take to the pitch.
Sexton's hamstring
The only hope ahead of the France game is that we get Jonny Sexton back.
Fergus McFadden should have been brought in. This is nothing against Ronan O'Gara; he hasn't been playing well and Jackson deserved his start.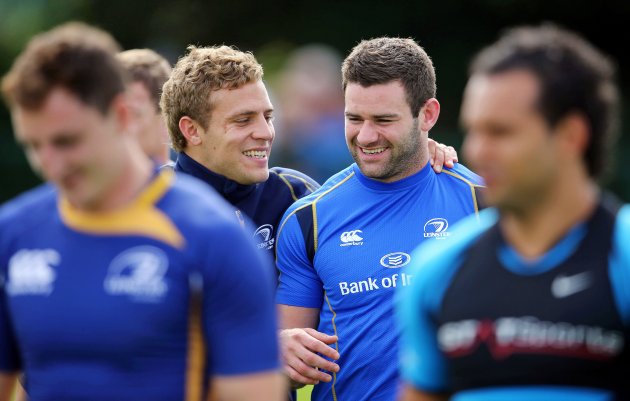 If Sexton misses the France game, a starting place must be found for Madigan (l) or McFadden. (©INPHO/Cathal Noonan)
You were going into that game without a recognised kicker. That challenge could have been simply met by playing McFadden, who is comfortable on either wing or in the centre and who's kicking stats are up near 90%.
Would it be fair to drop Paddy Jackson after that, when we knew his kicking has not been up to scratch? I don't think so.
The most sensible option, though, was to pick Ian Madigan but he doesn't appear to be on Kidney's radar, unfortunately.
*Shane Byrne's publication, Club Rugby Magazine is available monthly in the Irish Independent. Follow the magazine, and all the latest rugby news, on Twitter @ClubRugby1.