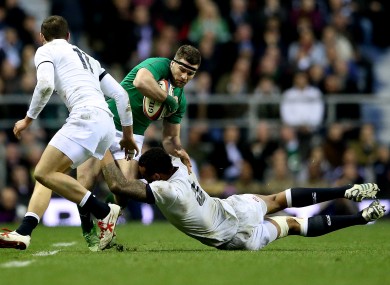 Fergus McFadden is tackled by England's Courtney Lawes.
Image: ©INPHO/James Crombie
THREE DAYS AFTER Ireland winger Andrew Trimble sat out a training session with a knee injury, Fergus McFadden started at outside centre for Leinster. A fractured hand cost McFadden the Irish 14 jersey but he is hopeful his 80-minute stint at 13, against Glasgow, will keep him in Joe Schmidt's thoughts ahead of Italy's Six Nations visit.
McFadden has appeared off the replacements bench in each of Ireland's Six Nations games but, before the league appearance on Saturday, had clocked just 43 minutes of on-field action in a month. "That 80 minutes at 13 will hold me in good stead and put my name in the hat, hopefully, for selection next week," McFadden told TheScore.ie.
Leinster ascended to the top of the Pro12 standings with their 28-25 victory over Glasgow Warriors. McFadden was outshone by midfield partner Noel Reid but put in a solid defensive shift. "Under Joe, and under Matt [O'Connor], they tap you on the back when you've done well but, equally, they don't hold back or hesitate in telling you what you could do better," he said.
"Coming off the pitch [on Saturday], I know there are things I could've done better. 80 minutes under the belt is great and the nice thing is that I felt physically good out there. I didn't feel like I was blowing and I felt good in contact."
Source: ©INPHO/James Crombie
Schmidt spoke, early last week, about the range of backline cover options McFadden provides off the bench. Having earned four consecutive starts before his hand injury against Australia, the 27-year-old is hoping his coach will freshen Ireland's ranks ahead of a potential championship decider in France.
He said, "It's competitive but Joe, in the past, has shown faith in his squads. He said at the start of the Six Nations that it was going to be a squad effort to put us in a position to win the championship. We are in that position now and who knows what he will do. He has, pretty much, a full deck of cards to go with and let's see where he goes with that."
"In fairness," McFadden added, "at the start of the Six Nations I hadn't enough game time under my belt to start. Thankfully Joe had the faith to put me on the bench after my few weeks' training and the Wolfhounds game.
You can look at it as a disadvantage but I look at is as a strength. It's so competitive in Ireland at the moment that it is tough enough to get in there. I think I'm good enough to be in the starting 15. It's about trying to convince Joe through the way I train and the blocks of playing time I get. We'll see what happens this week if I get  a good week of training in. Hopefully things might fall in my favour."
McFadden said his Leinster teammates were disappointed at conceding three tries to Glasgow but were pleased about leading the Pro12. "Listen," he commented, "if someone had've said they'd give us four points before the game we would have taken it. It is a big win. Munster have slipped up so we're now in a good position.
"We're nicely placed and it is a credit to the squad, that this block of four games has put us in a position at the end of the season to be either competing for, or missing out on, the Rabo semis. Getting 19 points out of a potential 20, you couldn't have asked for much more than that."