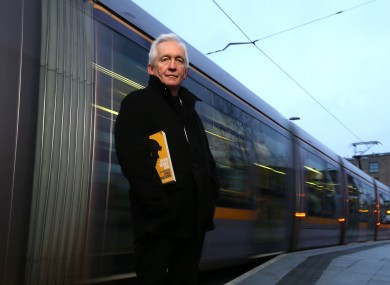 Image: ©INPHO/Billy Stickland
DAVID WALSH SAYS he will not be responding to Paul Kimmage who labelled parts of an article defending Tour de France winner Chris Froome as "insulting."
Walsh, one of the leading crusaders in the battle to expose Lance Armstrong as a drugs cheat, wrote a strong defence of Froome in which he accused the cyclist's critics of following "the mob."
The article, 'Why I Believe in Chris Froome', was published by the Sunday Times last weekend and coincided with Team Sky's victorious ride into Paris.
Kimmage, who has repeatedly raised questions about Froome's performances this summer, said he was "a bit surprised about the generalisations" in Walsh's piece.
"I found it insulting in some ways, I've got to be honest," he said on Tuesday's Second Captains @ the Irish Times podcast.
Walsh, however, says he won't be responding.
"Been asked by Irish radio stations and people on twitter if I would like to respond to criticism on Irish Times podcast," he tweeted today. " No I wouldn't."
Walsh has also come under fire for a section of the same article in which he alleged that Irish fans were involved in anti-social behaviour as the peloton climbed the iconic Alpe d'Huez. "Will revisit this later today," he told a follower.
Listen to Kimmage's interview on Second Captains in full here:

Click hear to listen if the above widget doesn't load >