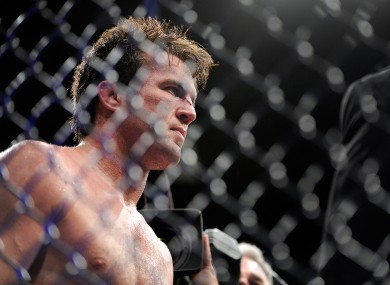 Chael Sonnen
Image: David Becker/AP/Press Association Images
THEY SAY THERE is a fine line between genius and insanity and over the past couple of years the UFC's biggest mouthpiece, Chael Sonnen, has zig-zagged from one side to the other.
After being thoroughly humbled by his long-time focus of attention Anderson Silva last time out, many would have placed him firmly on insanity's side given the conviction of his words leading up to that fight.
With nowhere to go in that division, Sonnen has returned to the weight class that he made his UFC debut in and wasted no time in making his intentions clear and feelings towards Jon Jones very public.
The spat began as Sonnen made a US TV appearance to confirm is next opponent would be Forrest Griffin in the light heavyweight division. In customary Chael fashion, he made a beeline for the man with the belt scoffing at a recent Nike sponsorship deal Jones signed and called him a "punk."



YouTube Credit: fueltv
Twitter spat
The row boiled inevitably boiled over onto twitter with the two exchanging pleasantries including a couple of digs at Sonnen's testosterone discrepancies from Jones before Chael hit back highlighting Bones' recent brush with the law for driving under the influence.
It has already been pointed out and it is clear for all to see that Chael is trying to talk his way into a title shot. These are the actions of a desperate man, but they might just work. Before Sonnen opened his mouth, the thought of a fight between the two would be way down the list of matchups to make in the light heavyweight division. Now that Jones has taken the bait, a fight between the two somewhere along the line is now a distinct possibility.
Has Sonnen skipped back into the line labelled "genius" once again? If he gets another title shot at this stage of his career, then he most definitely has.
Results round-up
Frankie Edgar was on the wrong end of a questionable judging call last Saturday night at UFC 150 as Ben Henderson made the first defence of is lightweight title winning via a split decision.
In a very close fight, Edgar started slowly and was rocked in the first round as "Smooth" piled on the pressure. Edgar recovered to take the second round before three rounds of back and forth action that Edgar looked to have edged. Despite being the busier fighter and landing more significant strikes at the end of the fight, "The Answer" stopped short of winning back the title meaning a third fight between the two could happen again in the future.
Donald Cerrone showed once again why he is near the top of the tree in the lightweight division as he became the first man to KO Melvin Guillard. Jake Shields claimed yet another decision victory for his record as he beat Ed Herman while Yushin Okami KO'd Buddy Roberts and Max Holloway beat Justin Lawrence.