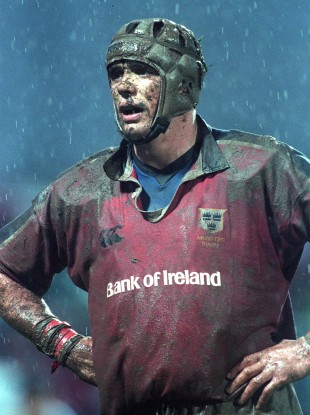 Alan Quinlan turns 37-years-of-age soon.
Image: Inpho
MUNSTER LEGEND Alan Quinlan will hang up his well-worn boots at the end of the season.
Thomond Park officials today confirmed the news that many expected from the 36-year-old.
Commenting on the news Tony McGahan said: "Alan Quinlan has been an integral part of the success of Munster Rugby for the past 15 years."
"His longevity in what is a highly attritional profession is a tribute to his dedication, application and durability."
Alan was a players' player whose impact in big games and ability to turn a negative situation into a positive action made him a great player to have on your side and a crowd favorite.
"His decision to call it a day at the end of this season of course evokes a sense of poignancy for all of us who have worked with him but it's balanced by the knowledge that he can look back on a great career with pride at what he's achieved. He leaves us with our thanks and very best wishes for the future."
The Clanwilliam clubman, named in the squad for the Scarlets game, has played 210 competitive games for Munster since making his debut in November 1996 and in addition to that was capped 27 times for Ireland.
He has been a part of all Munster's successes – Celtic League, Celtic Cup, Magners League and both Heineken Cup winning titles.
In the 2006 campaign, he recovered from an injury in the opening round against Sale Sharks that kept him out for most of the season, recovering in time to play a part in Munster's inaugural Heineken success, culminating with taking a kick in the backside from Fabien Pelous.
He missed the Lions tour to South Africa when an eye-gouging incident with Leo Cullen saw him slapped with a ban.
Quinlan is included in an extended Munster squad named this afternoon for the Magners League clash with Scarlets on Saturday.
Munster: F Jones, D Hurley, K Earls, P Warwick, D Howlett, L Mafi, S Tuitupou, J Murphy, D Barnes, S Zebo, C Murray, P Stringer, D Williams,  D Cusack, R O'Gara, M Horan, D Hurley, W du Preez, T Buckley, J Hayes, S Archer, M Sherry, D Fogs, D Varley, D Ryan, M O'Driscoll. A Quinlan, P Butler, D O'Callaghan, D Wallace, J Coughlan, T O'Donnell, N Ronan, D Leamy.